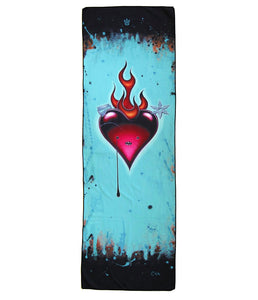 Heart Opener Yoga Towel
Bring color, style and whimsy along to your yoga workouts with this new yoga towel!
The latest rendition of the Zen Fuego Yoga towel is made of heavier-weight microfiber.  This microfiber towel gives you improved grip for sweaty yoga or a soft place for your Yin practice. The folks at ZF highly recommend spraying some water on it before practice for good grip - mainly just where your hands and feet go in down dog.
72˝ x 24˝ super absorbent microfiber that fits your mat perfectly!